Introduction to Cartier Santos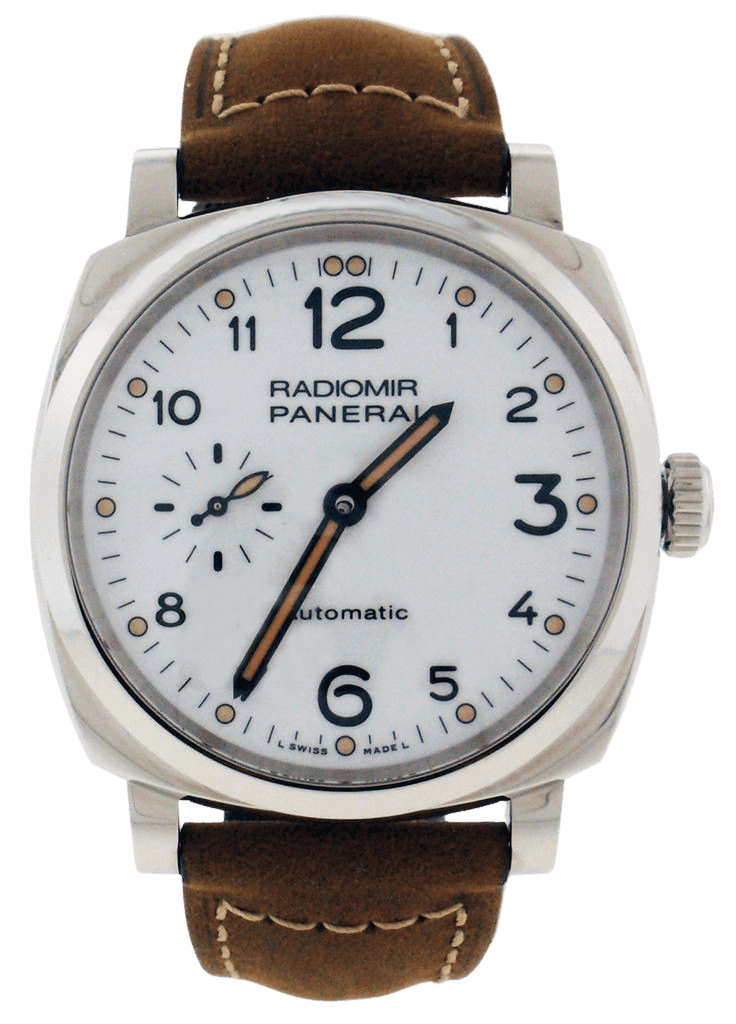 As the earliest purpose-built men's wristwatches and the first pilot watch ever made, the Santos timepiece is not only an integral part of Cartier's history but of watchmaking at large. With their distinct square cases, bezels and dials, used Cartier Santos watches are some of the most popular timepieces in the pre-owned luxury market.
History of the
Cartier Santos Watch

Alberto Santos-Dumont was a pioneering aviator who contributed significantly to the advancement of flight. In 1904, Louis Cartier created a wristwatch for his friend Santos-Dumont, after the aviator complained that it was impractical to handle a pocket watch whilst flying aircraft. Since men exclusively carried pocket watches during this era, Cartier is credited with inventing the first men's wristwatch. Additionally, due to Santos-Dumont's profession and the circumstances in which he wore his custom Cartier, the timepiece has also gone down in history as the world's first pilot watch.

A few years later, the company began production on a new watch model called the Santos-Dumont, inspired by the square wristwatch created for the aviator. By 1911, visitors to the brand's Paris boutique would find the brand new Cartier Santos watch for sale. Over the following decades, Cartier released various versions of the Santos-Dumont, always crafted in precious metals and fitted with leather straps.

The late-1970s marked the first major design shift of the Santos watch. Along with a name change from Santos-Dumont to Santos de Cartier, the watch was redesigned to be more in line with the luxury sports watches that surged in popularity during that decade. Featuring a bigger case in stainless steel, a wider bezel in yellow gold and an integrated steel bracelet punctuated with yellow gold screws, the two-tone Santos was the first Cartier watch to use stainless steel. The Santos redesign was a huge success and Cartier expanded the lineup with an assortment of materials, dial styles and movement types. Even round and octagonal Santos watches made their way into the collection. 

About a decade later, the Santos Galbée lineup made its debut and became a mainstay of the catalog until the mid-2000s. The 1990s saw Cartier re-issue a few special-edition Santos-Dumont timepieces, inspired by vintage designs. To mark the 100th anniversary of the watch, in 2004, Cartier released the Santos 100 collection, which became one of the best-selling Cartier watches to date. Cartier discontinued the Santos collection in 2016 but brought it back two years later with a fresh batch of redesigned models.
Cartier Santos Timeline
Louis Cartier creates a wristwatch for aviator Alberto Santos-Dumont
"The new Cartier Santos-Dumont watch model becomes available for sale
The introduction of the first two-tone Santos de Cartier watch
The Santos Galbée makes its debut
The launch of the limited-edition 90th Anniversary Cartier Santos-Dumont
The release of vintage-inspired Santos-Dumont CPCP models
Cartier presents the Santos 100 collection to celebrate the watch's centennial
Cartier discontinues the Santos
The introduction of the redesigned Santos de Cartier watch collection
Santos Watch Design,
Features and
Maintenance

Excluding a few exceptions, Cartier Santos watches have square cases, square bezels and square dials. Vintage Cartier Santos watches made before 1978 have smaller cases, slimmer bezels and leather straps. However, the majority of used Cartier Santos watches found in the secondary market are those sportier models made after the first major redesign in 1978.

Pre-owned Santos Demoiselle ladies' watches are characterized by smaller square cases, square bezels without screws, and five-piece link bracelets. They can be found in a variety of metals. Cartier recommends that its watches be serviced at least every five years. Regular maintenance by a qualified watchmaker helps to retain optimal timekeeping performance. Also, a watchmaker will replace any worn-out gaskets for better water-resistance. However, never get a vintage Cartier watch wet since it is unlikely to be water-resistant, due to its age. Moisture will damage the movement and/or dial.
Explorer Categories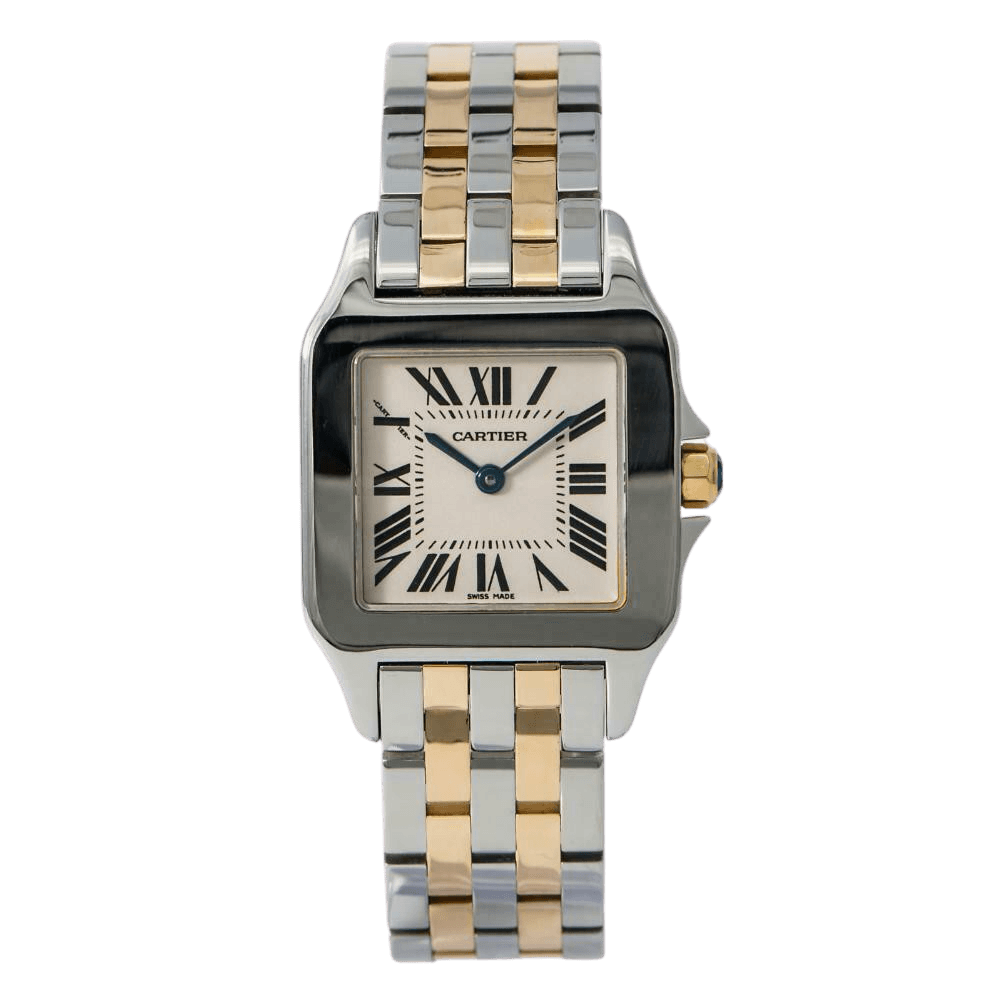 Pre-owned Santos de Cartier watches from late 1970s until late 1980s

Boxier case profiles
Wide square bezels with large screws
Steel, gold, and two-tone styles available
Integrated metal bracelets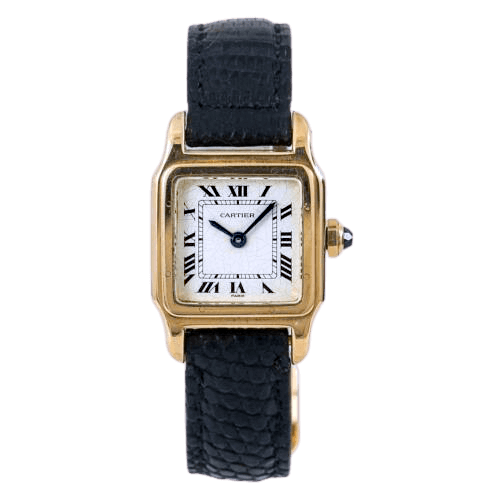 Pre-owned Cartier Santos Galbée Watches from the late 1980s until mid-2000s

Curvier case profile with slim arched lugs
Wide square bezels with large screws
Steel, gold, and two-tone styles available
Frequently quartz but some automatic options available
Integrated metal bracelets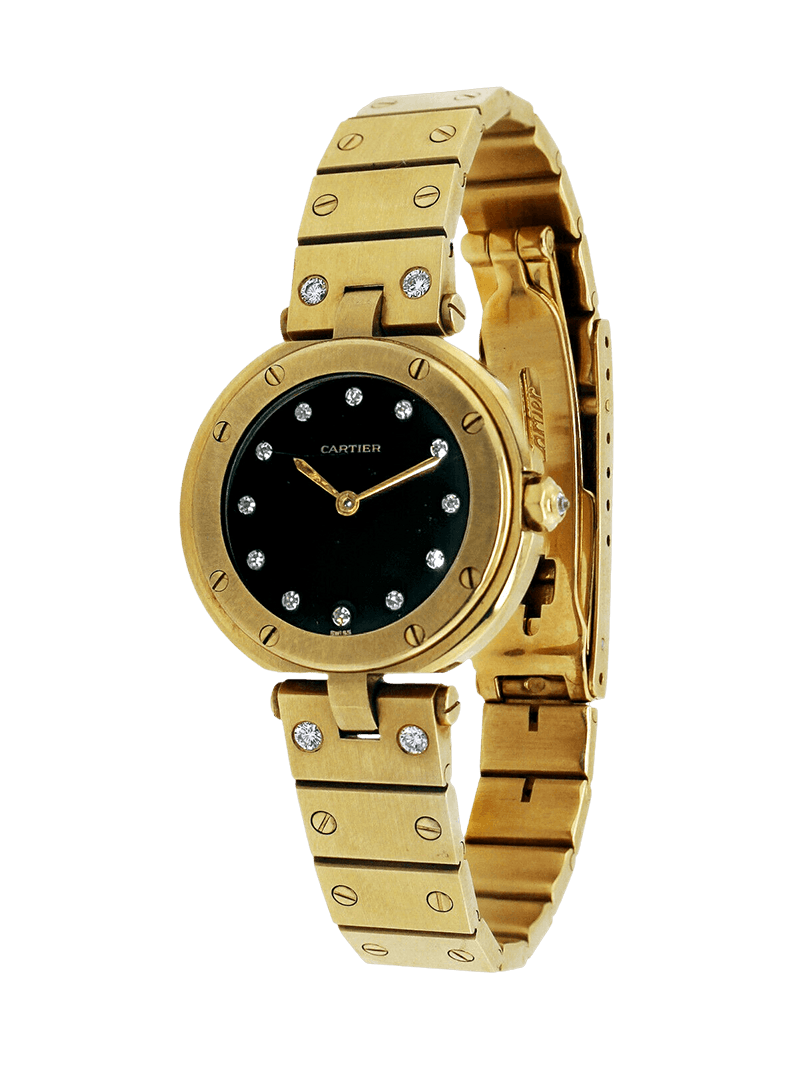 Pre-owned Santos de Cartier watches from late 1970s until late 1980s

Boxier case profiles
Wide square bezels with large screws
Steel, gold, and two-tone styles available
Integrated metal bracelets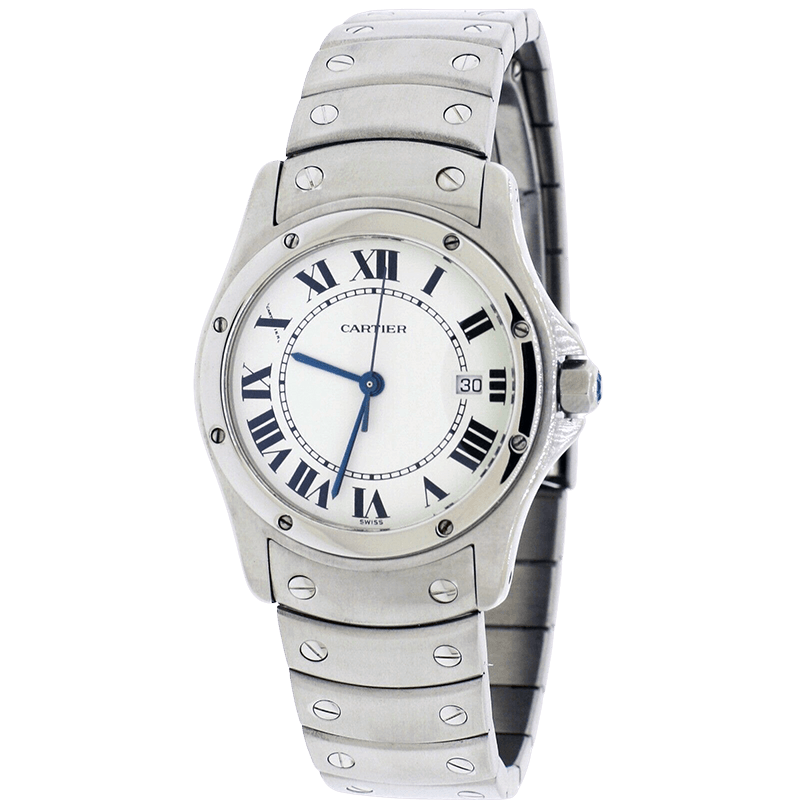 Newest Santos de Cartier Models from 2018 onwards

Curvier case profile
Sloped square bezel that extends into the lugs
Medium and large models
Stainless steel, stainless steel and yellow gold, pink gold, yellow gold
QuickSwitch system to easily change bracelet/straps
SmartLink system to easily remove bracelet links
Chronograph versions available
Santos Value and Collectability

Vintage Cartier Santos-Dumont watches are rare and desired by watch collectors. That collectability, paired with their precious metal construction, makes them highly expensive in the secondary market.

For more affordable used Cartier Santos watches, look to those made in the 1980s and 1990s. Quartz versions will be cheaper than automatic Santos models, and small and medium models tend to sell for less than large and XL models. As expected, stainless steel or two-tone secondhand Santos watches are less expensive than full gold versions
Watchmaker's Perspective

Throughout the history of the Santos, Cartier has made a multitude of fascinating versions of their famous watch. The Santos Skeleton is perhaps the most technically interesting because of its open-worked style. A skeletonized watch movement is a special version of a standard mechanical movement, in which all of its unnecessary areas are cut away for increased visibility of the mechanism. In a normal watch movement, the gears (wheels in watchmaking parlance) are often obscured from view, hidden underneath the sturdy bridges that keep them in place. A skeletonized movement is more difficult to manufacture, but the end result is spectacular.
More areas that are cut away create more areas to polish and decorate, which leaves no room for error. All of the internal parts of the mechanism are in clear view, making it easy to study and appreciate. The Cartier Santos Skeleton takes the concept of a skeletonized movement to a new level by making the movement itself function as the dial of the watch. The bridges are shaped into oversized Roman numerals, making the time easy to read and the turning wheels easy to appreciate.