GENUINE KENKO PRO1 Digital UV 58mm
DEDICATED TO DIGITAL CAMERAS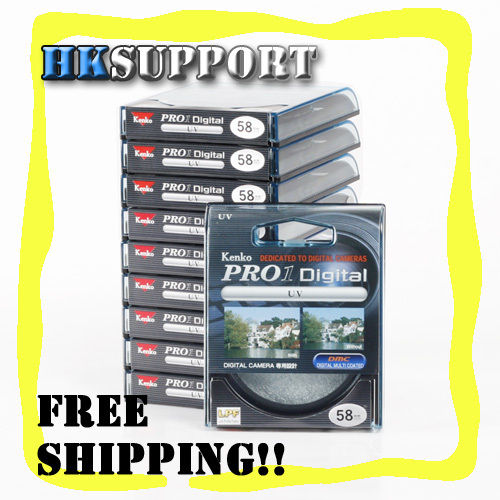 Absorbs the ultraviolet rays which often makes outdoor photographs hazy and indistinct.
A multi-purpose, fine-weather filter for color as well as black and white photos. Also serves
as a permanent lens protector.
Kenko PRO1 DIGITAL FILTER SERIES KEY FEATURES
● Digital Multi Coated: DMC filters greatly reduce lens flare and ghosting caused by reflections.
● Black Almite Frame: Black matte aluminum satin finish almite frame reduces reflections.
● Black Rimmed Glass: Black rimmed glass reduces light reflection around the filter edge.
● Low Profile Frame: Ultra thin low profile frames to help avoid vignetting on super wide
angle lenses.
● Knurled Frame Edge: Equipped with a knurling edge for easy attachment and removal.
● UV Protected Cases: Filter cases are UV protected to further lengthen the life of filters.
Made in JAPAN